THERE'S A GROWING NUMBER OF OPTIONS WHEN IT COMES TO WHITENING YOUR SMILE, FROM IN-CHAIR AND TAKE-HOME KITS THROUGH TO OVER-THE-COUNTER AND ONLINE WHITENING AGENTS.
Each one offering different results over various timeframes. So the question, which one works best? And more importantly, which one suits you best?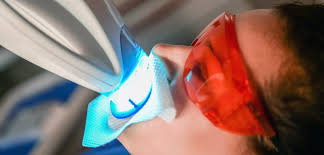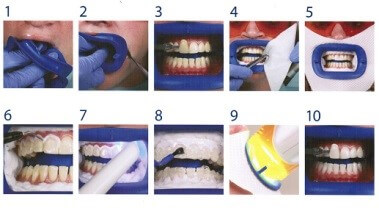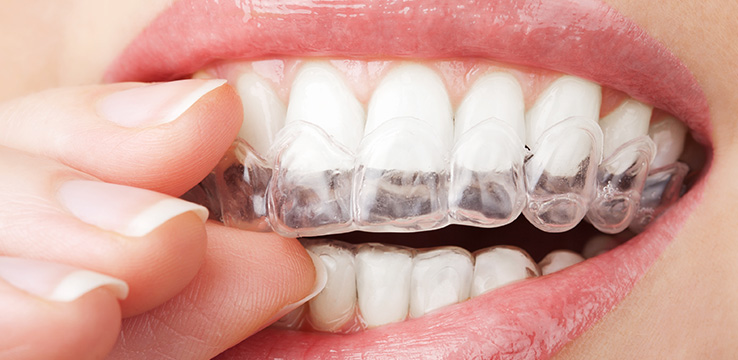 In-chair
teeth whitening
is the fastest and most effective whitening option. Performed in your local dental practice by a dental professional you can walk in with yellow teeth and walk out with a brighter smile in as little as an hour (or the time taken to finish a coffee!).
When you go for your in-chair teeth whitening appointment your dentist will apply a protective gel to your gums followed by the application of a whitening gel to your teeth. The gel is then left on the teeth and activated by an LED light. The reaction that occurs will brighten the teeth by lifting deep stains and discolourations.
The process takes around 1-2 hours to complete depending on individual factors such as the original tooth colour and levels of discolouration. How long it lasts will depend on the lifestyle of the individual but can be up to a few years.
Take-Home Whitening Kits

Custom manufactured take-home whitening kits can be an alternative to in-chair whitening. These kits are convenient and easy to use allowing the individual to apply their whitening agent, then sit back and relax while the whitening process begins.
You will need to make an appointment with your dentist who will determine which custom manufactured take-home teeth whitening kit is suitable for you. A custom manufactured tray and professional grade whitening gel are only available from a dental professional. The snug fitting impressions and high-quality whitening agent provides results that over-the-counter supermarket options simply cannot.
Following the instructions with custom manufactured take-home whitening kits is very important. First, you'll apply a small drop of gel inside each tooth impression of your custom manufactured tray. Then all you need to do is place them on your teeth and wait for the magic to happen.
Take-home whitening takes longer than a single in chair whitening visit, but you may achieve a similar result to in-chair systems. The advantage of In-chair systems in a dental practice is around the convenience since it will be completed in one visit and you will walk in with yellow teeth and walk out with visibly whiter teeth. Take-home kits also require you to remain away from staining foods and drinks for the duration of the whitening period, generally about 14 days, depending on the whitening system. But it is strongly advised that you talk to your dentist about what is best for you.
Over-the-Counter Options
Whitening toothpaste, strips, mouthwash and chewing-gums are easily accessible at your local supermarket or chemist and, in recent years, many alternatives are appearing on social media platforms such as Instagram and Facebook. Whilst some are effective and can result in visibly whiter teeth, caution should be taken when considering some over-the-counter products.
You need to be very cautious when considering over-the-counter teeth-whitening products. Some are actually abrasive and might initially appear to be whitening the teeth, but unfortunately, they are slowly removing the surface layer of the enamel and slowly working down to the dentine leading to yellower teeth. So, it's very important that a tooth whitening product is non-abrasive.
Internet-based products may appear to look the same as those products supplied at the dental office, though simply are not. For example, whitening trays which are supplied to you over-the-counter or via an internet purchase will not be custom fitted to your mouth. Combine this with whitening products that may not be approved for use in Australia and you may have a recipe for a dental disaster.
Additionally, as with anything purchased over-the-counter or from the internet, you need to truly know what you are putting in your mouth. Many internet-based products are not approved by the TGA (Therapeutic Goods Administration), so may not be regulated and this may carry a very real risk to your dental health. Products supplied in dental practices are TGA approved for use.
Teeth whitening is not suitable for everyone. When considering any teeth whitening treatments it is important to consult with your dental health professional to see what the best options are for you. If you are considering over the counter teeth whitening products, we encourage you to seek advice from your trusted dental health professional.
Let us brighten your smile! Book a teeth whitening consultation with your Wagga dentist at Morgan Street Dental Centre!