WE ARE VERY EXCITED TO ANNOUNCE THE LATEST ZOOM WHITESPEED TEETH WHITENING IS NOW AVAILABLE AT MORGAN STREET DENTAL CENTRE!
HOW DOES PHILIPS ZOOM WHITENING WORK?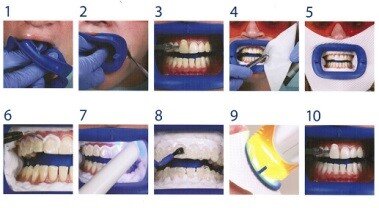 Philips Zoom tooth whitening is an in-chair dental procedure that brightens and whitens teeth up to 8-10 shades in just 45 minutes.
We start by applying a concentrated whitening gel to your teeth, which works to break down the molecular bonds that make up the stains on your teeth.
Once the gel is applied, we apply a blue LED light that accelerates the whitening process to eliminate stains from your teeth.
The gel is reapplied up to 3-4 times, followed by blasts of light, lasting 15 minutes at a time..
HOW LONG DOES IT LAST?
It is a permanent teeth whitening. However, how white your teeth remain is determined by your habits. If you are a heavy tea and coffee drinker, love red wine, eat lots of berries or smoke this will discolour your teeth. Some patients like to top up annually, but others have found that the process has whitened their teeth for over two years.
BEFORE AND AFTER PHILIPS ZOOM TREATMENT
Rapid results for whiter teeth with ZOOM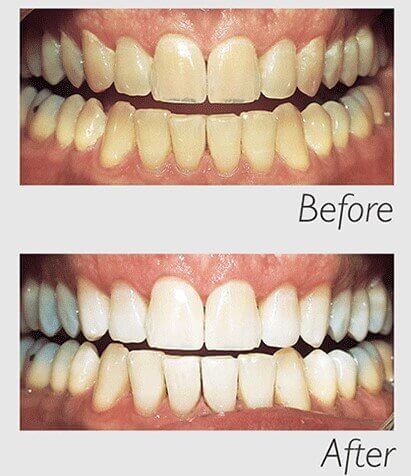 PREPARATION NEEDED
It is important to have a dental check-up and clean a week before the Zoom for best results and to ensure you don't have any dental issues or cavities that will need to be filled prior to the process.
WHAT IF I'VE HAD MAJOR DENTAL WORK DONE?
If you've had major dental work on your front teeth, like crowns, veneers or implants be aware that porcelain will not whiten and the process may leave a colour disparity across your visible teeth. Small caps and fillings are more likely to blend in, so shouldn't be a problem. We will advise you when we view your teeth. We wouldn't recommend a Philips Zoom whitening if you have a build up of plaque and tartar. Get a clean first, and then wait a couple of weeks for the gums to settle before undergoing the whitening process.
DOES THE PROCESS HURT?
A few people with teeth sensitivity to hot and cold, say that they certainly feel the process but it's worth the unpleasant feeling and it usually disappears in one or two days. For those with really receded gums or hyper-sensitive teeth it is likely they will need pain killers for a few days. Use sensitive toothpaste, like Sensodyne, beforehand, or even take a Nurofen in preparation for the treatment.
Undoing the effects of a lifetime of coffee-fuelled days with cappuccino stained teeth is now a very quick and easy process at Morgan Street Dental Centre Wagga with in-chair Philips Zoom WhiteSpeed teeth whitening.
Book an appointment during your lunch break. You will be amazed that your teeth could be so much whiter in such a short time!

Disclaimer: Keep in mind that each patient is unique and your results may vary. Photos in our online gallery are of actual patients of our practice who have provided consent to display their pictures online. Any surgical or invasive procedure carries risks. Before proceeding, you should seek a second opinion from an appropriately qualified health practitioner.