Children's Dentistry wagga wagga
We treat your child as our own, and perform high quality children's dentistry in the safest and most efficient manner.
Our dental clinic is built on love for children and we make every effort to make your child's dental visits fun and enjoyable. Our experienced team take the time to consider your child's thoughts and feelings. We are committed to provide the finest children's dentistry in a kid-friendly, pleasant, comfortable and professional atmosphere, in which your child can develop a positive attitude towards dentistry and keep a healthy smile. Nitrous oxide (happy gas) sedation is available on request, so your child can undergo dental treatment while feeling comfortable, relaxed and sleepy almost instantly.
We recommend a visit to the dentist after your child's first tooth has come through.
It may sound early, but questions you may have including teething, feeding practices, grinding, dummy use and injuries to baby teeth can all be answered in this visit too. Baby teeth are extremely important for speech, eating and maintaining the space for future adult teeth. If a baby tooth is lost early, this can result in teeth crowding and problems in adult teeth later on.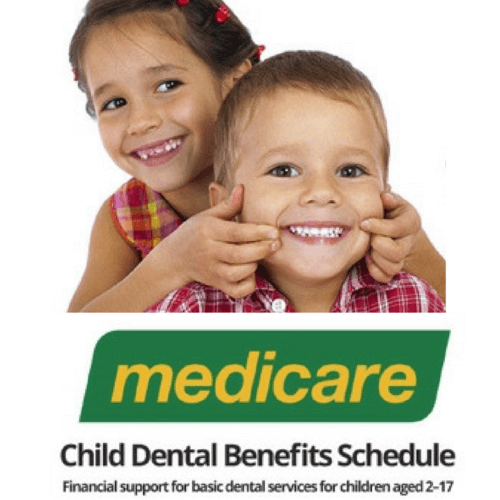 Free Dental Treatment for Kids - Child Dental Benefits Schedule
At Morgan Street Dental Centre Wagga Wagga, we proudly support the Child Dental Benefits Schedule (CDBS). We bulk bill your child's treatment fees on site through Medicare, which means you do not have to incur any out-of-pocket expenses.
The CDBS provides access to dental services to children aged 2-17 yrs of age and is available to families that receive Family Tax Benefit Part A or a relevant Australian Government Payment. Eligible children or teenagers can receive up to $1013 in benefits for dental services over two consecutive calendar years. Treatment is fully covered with us under the scheme and includes:
Checkup and Clean (every 5 months)

Dental X-rays

Fluoride Treatment

Fissure Sealants

Fillings

Teeth Extractions
Your child's eligibility will be determined each calendar year. A notification of eligibility will be sent to the child's parent/guardian either electronically, or by post. If you are unsure if your child is eligible simply call 132 011 and have your Medicare details on hand.
Alternatively, you may contact us to know more about your child's eligibility for the CDBS.